Wildwash Pro Perfume Fragrance No.03
from
WildWash
Price at Not On The High Street: £14.95
(Click on the product to visit the Not On The High Street site for the price and to confirm that this product is eligible for shipping to your destination.)
WildWash pH balanced natural pet perfume Fragrance No.3 with sweet Orange, Coriander and Cedarwood. At WildWash, all of our professional groomers love our pets and our planet. That's why we used our 15 years of grooming experience to develop a range of natural pH balanced pet shampoos that are brilliant effective and kind to our pets' skin and coat. Our revolutionary natural scents are formulated entirely from plants and botanicals so can be used as frequently as liked. Our natural products are used on all breeds of dogs and cats every day and give incredible results. Trusted by groomers, vets and pet owners worldwide, your pets will love you for it!! Sweet Orange, Coriander and Cedarwood has a warm lingering spicy aroma All our natural WildWash products contain No Parabens, No Phthlates, No Phosphates, No Petrochemicals, No Sulphates and No PEGs. We use 100% Pure Essential Oils – No Extracts, Infusions, Synthetic or Semi Synthetic Fragrances. We guarantee there is No Animal Testing on any of our products, nor on any of the ingredients they contain. All our products are Made In England. Directions for use: Spray directly on to a dry coat avoiding the eyes to impart a wonderful, long lasting fragrance. For the pet owner or professional groomer WildWash Fragrance adds the finishing touch to every dog's bath time. Contains only totally natural botanical fragrances so can be used as often as wished.
Price at Not On The High Street: £
14.95
Buy
from Not On The High Street (Please note: We try hard to keep these prices up to date. Click on the product to visit the Not On The High Street site for the price and to confirm that this product is eligible for shipping to your destination.)
Trending products at Not On The High Street
Trending: As seen in the press
Shop
at Not On The High Street
Worldwide Delivery Details at Not On The High Street:
UK Delivery
Up to £2.95 per item; many are FREE (delivery!).
Worldwide Delivery
International delivery costs are country specific. Please see delivery tariffs on products pages and at checkout. International delivery is available on certain products, indicated by a flag on the product page.
---
Read more about Not On The High Street
(6 votes)
---
Products
View more products from Not On The High Street
---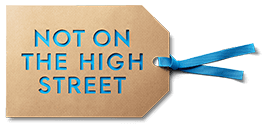 Notonthehighstreet .com is an award-winning online marketplace, offers over 250,000 products by over 5,000 of Britain's most creative small businesses and designer makers.
Visit Not On The High Street