Superior Preference Fade-Defying Color # 9.5A Lightest Ash Blonde - Cooler from LOreal
Price at Perfume Emporium: USD 13.99 Buy (Click on the product to visit the Perfume Emporium site for the price and to confirm that this product is eligible for shipping to your destination.)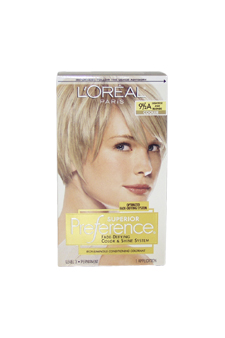 Women's 1 Application Hair Color. Rich Luminous Conditioning Colorant. Optimized fade-defying system. Preference with Optimized Fade-Defying System creates a rich long-lasting color spectrum with luminosity shine and beautiful gray coverage. 9A is a light alluring blonde shade with ash tones which will minimize red/orange tones.
Price at Perfume Emporium: USD 13.99
Buy
(Please note: We try hard to keep these prices up to date. Click on the product to visit the Perfume Emporium site for the price and to confirm that this product is eligible for shipping to your destination.)