Personalised Family Button Print Unframed
from
mrs L cards
Price at Not On The High Street: £25.00
(Click on the product to visit the Not On The High Street site for the price and to confirm that this product is eligible for shipping to your destination.)
A simple and stylish personalised print that shows your family together as one. This personalised family print is a wonderful addition to add to your home or to give to family or friends as a unique thoughtful gift. It can be given as a gift for Mother's Day, Father's Day, as a individual Christmas present, for birthdays, when a new child is born or to celebrate moving into a new home. On this poster the family is made up of a simple but effective design of cute stick people and pets. The heads of both people and pets are made from stuck on colourful buttons. Girls and women/mums shown in the print have dresses with a variety of black and white graphic prints. Your individual family are all standing side by side holding hands. The parents on the outer side of the children, generally the male on the left and the female on the right if appropriate. If there is only one parent often they will be placed in the centre of the print. Beneath the illustration is the family surname and then the list of family first names. Alternatively if you do not wish to add a surname you may just add "Our Family". The layout of the text will go for example "David, Sally, Sarah, Muffin and Charlie" where David and Sarah are the parents, Sally is the child and Muffin and Charlie are the pets. The surname of the family is picked out in the colour of your choice. There are nine different colours to choose from. If you would like any amends to the layout please enquire first. ** PLEASE NOTE THIS PRINT IS SOLD UNFRAMED ** This unframed personalised item is printed on 300gsm white card. The A4 print is supplied in a board-backed envelope, the A3 print is supplied rolled in a cardboard tube.
Price at Not On The High Street: £
25.00
Buy
from Not On The High Street (Please note: We try hard to keep these prices up to date. Click on the product to visit the Not On The High Street site for the price and to confirm that this product is eligible for shipping to your destination.)
Trending products at Not On The High Street
Trending: As seen in the press
Shop
at Not On The High Street
Worldwide Delivery Details at Not On The High Street:
UK Delivery
Up to £2.95 per item; many are FREE (delivery!).
Worldwide Delivery
International delivery costs are country specific. Please see delivery tariffs on products pages and at checkout. International delivery is available on certain products, indicated by a flag on the product page.
---
Read more about Not On The High Street
(6 votes)
---
Products
View more products from Not On The High Street
---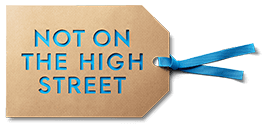 Notonthehighstreet .com is an award-winning online marketplace, offers over 250,000 products by over 5,000 of Britain's most creative small businesses and designer makers.
Visit Not On The High Street