Personalised Copper Button Initial
from
Sweet Dimple
Price at Not On The High Street: £75.00
(Click on the product to visit the Not On The High Street site for the price and to confirm that this product is eligible for shipping to your destination.)
This Personalised Copper Button Initial makes a great piece of art, a perfect addition to a contemporary home. A person's initial is at the core of who they are, this makes a fabulous present that this is not only decorative but individual too. This design suits any age and gender, but we do think it makes an especially good male gift. Great for for a Dad, Husband, or Son. Boyfriends will love it too.We also think a Wedding gift of a pair of these framed initals would be gorgeous! We also offer the option of a small black plaque which is mounted underneath the big initial. Your personal message and name can be printed onto the car,d it is raised a little to create an amazing 3 D effect. We love sourcing our buttons, coins and cute copper washers worldwide and take pride in how beautiful each and everyone of them is! You will always get a handpicked mix of our current favourites. A a few white buttons are added in to tie in with the frame's white spacer and to give some highlights to the design. To help you envisage the font style, we are more than happy to email you a mock up. It will be a simple black and white version of the letter or number. Please request it when ordering from the drop down options menu. To avoid a delay it is vital you check your mock up and let us know ASAP if we can proceed with completing the design. Each Sweet Dimple product is an original, every piece will have it's own unique combination of elements, so contents may vary slightly from time to time. The design comes framed in a contemporary black, wooden box frame, The frame's moulding as a smooth satin feel and is in matt black. it has a contrasting white filler (this creates the space between the artwork and the glazing) if you would like a black filler please email us to arrange. The frame has MDF backing and a hook. If the artwork is going direct to the recipient, a message can be added to a gift tag at no extra charge. The piece is then bubblewrapped and boxed. Finally are you in a real hurry and cannot wait 10 days? Don't worry we offer a speedy 'Express Delivery' service. Please select from the options menu when placing your order and let us know the date you need it for or simply email us the date!
Price at Not On The High Street: £
75.00
Buy
from Not On The High Street (Please note: We try hard to keep these prices up to date. Click on the product to visit the Not On The High Street site for the price and to confirm that this product is eligible for shipping to your destination.)
Trending products at Not On The High Street
Trending: As seen in the press
Shop
at Not On The High Street
Worldwide Delivery Details at Not On The High Street:
UK Delivery
Up to £2.95 per item; many are FREE (delivery!).
Worldwide Delivery
International delivery costs are country specific. Please see delivery tariffs on products pages and at checkout. International delivery is available on certain products, indicated by a flag on the product page.
---
Read more about Not On The High Street
(6 votes)
---
Products
View more products from Not On The High Street
---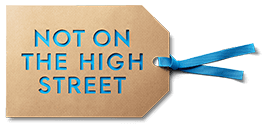 Notonthehighstreet .com is an award-winning online marketplace, offers over 250,000 products by over 5,000 of Britain's most creative small businesses and designer makers.
Visit Not On The High Street