Oilcloth Dog Toy Storage Basket In Rufus Fabric
from
Poppy & Rufus
Price at Not On The High Street: £25.00
(Click on the product to visit the Not On The High Street site for the price and to confirm that this product is eligible for shipping to your destination.)
It's tidy-up-time! Easy with our useful and beautiful, oilcloth storage basket. Put an end to half-chewed toys as far as the eye can see; but keep them close to hand (or paw) in something you're proud to display! Made of durable, self-lined oilcloth, Maisie is sturdy but light, won't scratch your floors, has no baskety bits to chew, can squash away into small spaces or expand in height to hold lots and lots of toys! You'll find Maisie looks particularly beautiful alongside Hector the Dog Bed too, complementing each other perfectly. Choose from our three exclusive oilcloth designs, Poppy, Rufus and Leaf designed by contemporary UK textile designer, Jenny Lee-Katz. - you have chosen Rufus fabric Fully lined in oilcloth for easy cleaning. Adjustable height and sides which roll over to suit. Lovingly made in the UK, exclusively for Poppy & Rufus. We offer gift wrapping in lovely white tissue paper with silver dots sealed with a Poppy & Rufus sticker (as shown in the photograph). Please let us know if you would like a gift label. This can be made out to your dog's name from Poppy & Rufus or you can give us your own message. Gift tags are handwritten as shown in the photos. High quality, bespoke oilcloth inside and out. To keep Maisie looking beautiful, wipe clean with a damp cloth and mild detergent. Do not submerge in water.
Price at Not On The High Street: £
25.00
Buy
from Not On The High Street (Please note: We try hard to keep these prices up to date. Click on the product to visit the Not On The High Street site for the price and to confirm that this product is eligible for shipping to your destination.)
Trending products at Not On The High Street
Trending: As seen in the press
Shop
at Not On The High Street
Worldwide Delivery Details at Not On The High Street:
UK Delivery
Up to £2.95 per item; many are FREE (delivery!).
Worldwide Delivery
International delivery costs are country specific. Please see delivery tariffs on products pages and at checkout. International delivery is available on certain products, indicated by a flag on the product page.
---
Read more about Not On The High Street
(6 votes)
---
Products
View more products from Not On The High Street
---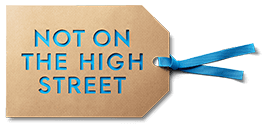 Notonthehighstreet .com is an award-winning online marketplace, offers over 250,000 products by over 5,000 of Britain's most creative small businesses and designer makers.
Visit Not On The High Street