Buy online
from Cowshed
Morning, Noon, Night Book
from Soho Home
Price at Cowshed: GBP 30.00
Shop online
from Cowshed
(Click on the product for online shopping at Cowshed and to confirm the price and that this product is eligible for international shipping to your destination.)
About Morning, Noon, Night Book
The cloth-bound book invites readers behind the scenes at the Houses; following the day the Soho House way from the second you wake up to the moment you go to bed. Interior design, food and drink take centre stage, and with more than 20 years design experience behind them, Soho House's experts offer impactful insights into House style, with tips on their favourite sources and suppliers - all designed to help you take a little of the House home.
Price at Cowshed:
GBP
30.00
Buy online
from Cowshed
---
Worldwide Delivery Details at Cowshed:

Add the items to your basket to check the price of delivery.

"For international orders, please allow between 3-5 working days for dispatch. Delivery times will vary according to region. Please note, international deliveries may be subject to additional handling charges. Taxes and customs charges are the sole responsibility of the customer. These charges also vary and are calculated and charged when your package reaches its destination country. Please contact your local customs office for details on how these charges are assessed and applied to your delivery.
Western Europe - £20 // Regions including Austria, Belgium, Denmark, Finland, France, Germany, Iceland, Luxembourg, Netherlands, Sweden, Switzerland
Eastern Europe - £32 // Regions including Armenia, Azerbaijan, Czech Republic, Estonia, Hungary, Latvia, Lithuania, Poland, Russia
Southern Europe - £34 // Regions including Italy, Spain, Croatia, Greece, Serbia, Bulgaria, Turkey, Cyprus, Kosovo, Macedonia, Montenegro, Slovenia, Malta
Australia - £35
United States Territories, Canada and the Caribbean - £40
Asia - £42 (Regions including China, Japan, Hong Kong, Singapore, South Korea, Taiwan, Thailand)
New Zealand - £43
Middle East - £45 // Regions including Qatar, United Arab Emirates, Saudi Arabia, Iraq, Jordan, Egypt, Israel, Lebanon, Palestine, Syria, Oman, Yemen
South America - £48"
---
Read more about international shopping from Cowshed
(1 vote)
---
Products
View more products from Cowshed
---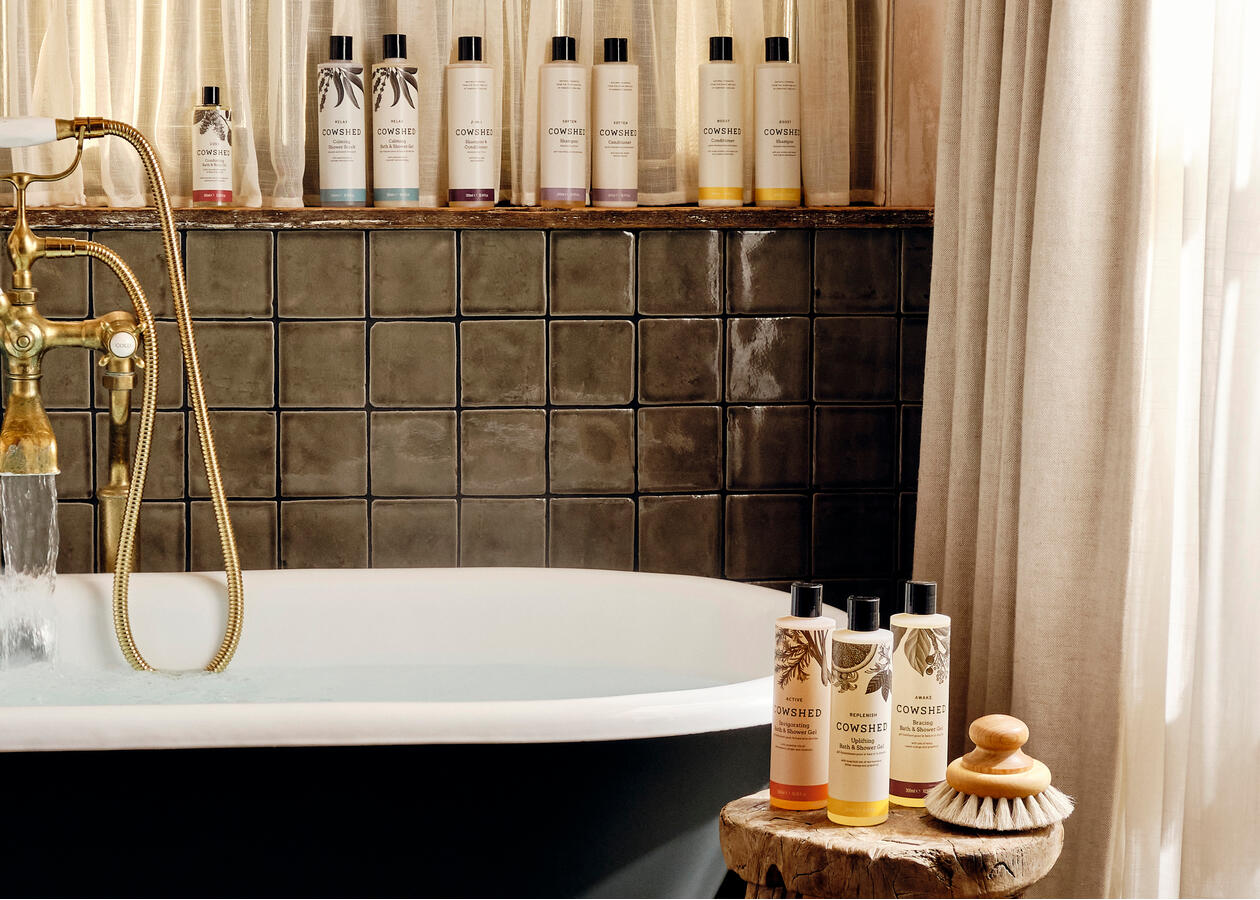 Online shopping at Cowshed
Cowshed is a range of natural, therapeutic plant-based products with cheeky names but serious benefits. They use organic, wildcrafted and fairly traded botanicals from sustainable sources, without the use of synthetics or preservatives. Made in England. Cowshed is a renowned beauty and wellness brand that offers a range of natural and organic products. Their collection includes skincare, body care, and bath products that are designed to nourish, soothe, and rejuvenate the body and mind. Cowshed is known for their use of botanical ingredients, essential oils, and therapeutic blends that provide a luxurious and holistic experience. From moisturizers and cleansers to bath oils and candles, Cowshed products offer a sensory journey of relaxation and self-care. Indulge in the natural goodness of Cowshed and elevate your skincare and wellness routine.
Online shopping
at
Cowshed