Special Offer! Maje Vega Tweed Jacketfrom Maje
Price at Bloomingdales: £367.54 Buy (Click on the product to visit the Bloomingdales site for the price and to confirm that this product is eligible for shipping to your destination.)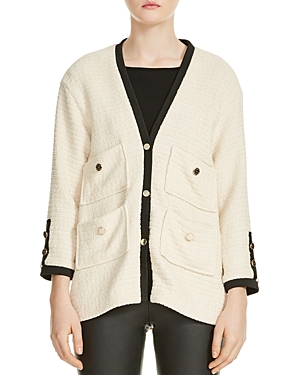 Maje Vega Tweed Jacket
Price at Bloomingdales: £367.54
Buy
(Please note: We try hard to keep these prices up to date. Click on the product to visit the Bloomingdales site for the price and to confirm that this product is eligible for shipping to your destination.)
Bloomingdales SALE
Visit Bloomingdales
Pounds amount off from Bloomingdales
It's a Private Sale! Take $25 off EVERY $100 you spend on a great selection of regular-priced items at Bloomingdales.com! Enter promo code PRIVATE SALE at checkout. Offer valid 11/11-11/17!
Use the code
PRIVATE SALE
Open this site
Visit Bloomingdales

Valid until Sunday, 17 Nov 2019.
Worldwide Delivery Details at Bloomingdales:
Shipping via Borderfree. Tax and shipping calculated at the checkout.