Large Silver Hoop Pendant Necklace, Silver
from
TigerLily Jewellery
Price at Not On The High Street: £85.00
(Click on the product to visit the Not On The High Street site for the price and to confirm that this product is eligible for shipping to your destination.)
A gorgeous statement pendant necklace on a long silver chain. This is a lovely, organic solid silver hoop pendant with a good weight to it. It hangs on an attractive, long silver chain, perfect as a piece of summer jewellery to accessorise all your favourite tops. It would make a fabulous gift for someone special. Presented in a branded aqua jewellery box. Sterling silver.
Price at Not On The High Street: £
85.00
Buy
from Not On The High Street (Please note: We try hard to keep these prices up to date. Click on the product to visit the Not On The High Street site for the price and to confirm that this product is eligible for shipping to your destination.)
Trending products at Not On The High Street
Trending: As seen in the press
Shop
at Not On The High Street
Worldwide Delivery Details at Not On The High Street:
UK Delivery
Up to £2.95 per item; many are FREE (delivery!).
Worldwide Delivery
International delivery costs are country specific. Please see delivery tariffs on products pages and at checkout. International delivery is available on certain products, indicated by a flag on the product page.
---
Read more about Not On The High Street
(6 votes)
---
Products
View more products from Not On The High Street
---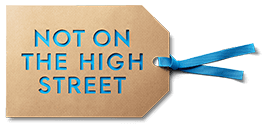 Notonthehighstreet .com is an award-winning online marketplace, offers over 250,000 products by over 5,000 of Britain's most creative small businesses and designer makers.
Visit Not On The High Street