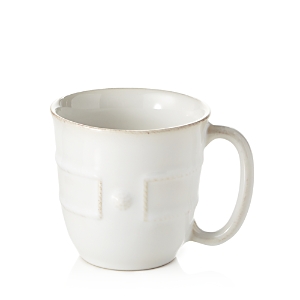 Juliska Berry & Thread French Panel Mug
from
Juliska
Price at Bloomingdales: £24.16
(Click on the product to visit the Bloomingdales site for the price and to confirm that this product is eligible for shipping to your destination.)
This chic, understated take on Juliska's iconic Berry & Thread pattern was the result of a close collaboration with the designer. A trim geometric pattern and the brand's signature whitewash finish combine for elegant, old world-inspired texture and warmth.
Price at Bloomingdales:
£
24.16
Buy
from Bloomingdales (Please note: We try hard to keep these prices up to date. Click on the product to visit the Bloomingdales site for the price and to confirm that this product is eligible for shipping to your destination.)
Bloomingdales SALE
Shop
at Bloomingdales
Worldwide Delivery Details at Bloomingdales:
Shipping via Borderfree. Tax and shipping calculated at the checkout.
---
Read more about Bloomingdales
(1 vote)
---
Products
View more products from Bloomingdales
---
Bloomingdales now offers international delivery! You can shop online from this up market American department store.
Visit Bloomingdales