Handmade Leather Whippet Collar, Baby Pink/Pink/Barbie Pink
from
Petiquette Collars
Price at Not On The High Street: £35.00
(Click on the product to visit the Not On The High Street site for the price and to confirm that this product is eligible for shipping to your destination.)
A lovingly handmade whippet collar, designed especially to protect their delicate necks using the finest soft Italian calf leather. Our leather dog collars for whippets are tapered in design so that the widest part of the collar will protect the neck, and the narrow buckle will fasten on the back of the neck. Our leather whippet collars measure 1 3/4" at the widest part and taper down to a 3/4" buckle and d ring. We have sourced a soft and supple calf leather from Italy so that your dog will hardly realise they are wearing a collar. To measure for a Petiquette collar, please ensure you read the sizing guide below. IMPORTANT SIZING INFORMATION - PLEASE READ BEFORE ORDERING. In order to measure your dog for a Petiquette collar, have them stand and wrap a soft tape measure around the neck from underneather the chin to behind the ears so that it is touching the fur but is not tight. If the measurement is 12.5", we would recommend a 12"-14" collar. A 12" - 14" collar will have holes starting at a distance of 12" from the buckle up to 14". PLEASE DO NOT MEASURE THE TOTAL LENGTH OF YOUR EXISTING COLLAR AS THIS WILL LEAD TO AN INCORRECT SIZE. If you are at all unsure of how to measure for a bespoke collar, please do not hesitate to get in touch. Petiquette collars are cut from soft Italian leather hides. Unlike many firm leather collars which can feel quite rigid, our collars are soft and supple from the moment you receive them, perfect for delicate sighhound necks, but are still hard wearing enough for every day use. To prolong the life of your Petiquette leather whippet or greyhound collar, we recommend that you clean them with a soft damp cloth, and allow to dry away from direct sunlight. Applying a little leather cream now and again can also help keep our collars in tip top condition.
Price at Not On The High Street: £
35.00
Buy
from Not On The High Street (Please note: We try hard to keep these prices up to date. Click on the product to visit the Not On The High Street site for the price and to confirm that this product is eligible for shipping to your destination.)
Trending products at Not On The High Street
Trending: As seen in the press
Shop
at Not On The High Street
Worldwide Delivery Details at Not On The High Street:
UK Delivery
Up to £2.95 per item; many are FREE (delivery!).
Worldwide Delivery
International delivery costs are country specific. Please see delivery tariffs on products pages and at checkout. International delivery is available on certain products, indicated by a flag on the product page.
---
Read more about Not On The High Street
(6 votes)
---
Products
View more products from Not On The High Street
---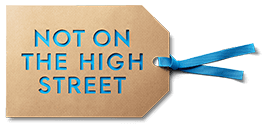 Notonthehighstreet .com is an award-winning online marketplace, offers over 250,000 products by over 5,000 of Britain's most creative small businesses and designer makers.
Visit Not On The High Street