Buy
from Not On The High Street
Fungi Print A5 Lined And Plain Notebook Set
from
Also the Bison
Price at Not On The High Street: £13.00
(Click on the product to visit the Not On The High Street site for the price and to confirm that this product is eligible for shipping to your destination.)
A set of two Mushroom print Notebooks: one lined (76 pages) and one plain (36 pages). Eco-Friendly and Made in the UK Fungi (n) - the kingdom of eukaryotic organisms that includes microorganisms such as yeasts, moulds and mushrooms. Chitin in their cell walls differentiates them from plants, bacteria and some protists. The Fungi print is inspired by an Autumn walk in the forests around Runnymede, spotting species from ink caps to Amethyst Deceivers, Oysterlings, Funnels, Parasols, Brackets and Shields. Each mushroom has been hand painted in watercolour before being digitally printed in the UK onto 300gsm recycled card using eco-friendly inks. Our notebooks feature a blank, customisable box on the front cover for labelling and recording your musings. Inside the pages are made of 90gsm recycled paper, perfect for jotting down notes, ideas, dreams and doodles. Notebooks are packed 'naked' and plastic-free, with a decorative kraft paper bellyband that makes them perfect for gifting. This set contains 2 notebooks. All of our products can be sent direct to the recipient complete with a gift note hand-written in an notecard embossed with a shiny gold moth. This is a letter-box sized gift! Why not get your gift wrapped in eco-friendly kraft paper and metallic gold twine for just PS3 extra? The notebook cover is digitally printed in the UK onto 300gsm recycled board. This product is made from 100% recycled paper. We do our best to ensure that Also the Bison products are all made as sustainably as possible, using natural, recycled and FSC certified materials. Please help us by recycling your packaging!
Price at Not On The High Street:
£
13.00
Buy
from Not On The High Street
Worldwide Delivery Details at Not On The High Street:
UK Delivery
Up to £2.95 per item; many are FREE (delivery!).
Worldwide Delivery
International delivery costs are country specific. Please see delivery tariffs on products pages and at checkout. International delivery is available on certain products, indicated by a flag on the product page.
---
Read more about Not On The High Street
(6 votes)
---
Products
View more products from Not On The High Street
---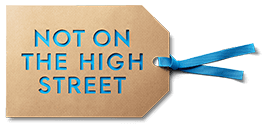 Notonthehighstreet .com is an award-winning online marketplace, offers over 250,000 products by over 5,000 of Britain's most creative small businesses and designer makers.
Visit Not On The High Street