Buy
from Not On The High Street
Discount Offer!
Dukkah Spice Dip Gift Box
from
The Dukkah Company
Price at Not On The High Street: £24.95
(Click on the product to visit the Not On The High Street site for the price and to confirm that this product is eligible for shipping to your destination.)
Gift box set of 6 delicious Dukkahs. Served with bread & oil, dukkahs are perfect nibbles with evening drinks. An ideal gift for foodie friends and family, dukkah dips are perfect served with evening drinks or as a simple starter. Dukkah is a traditional dish of blended nuts, seeds & spices all ready to serve as a dip. Simply dunk fresh bread into olive oil and then into the dukkah. Bread, oil, dukkah, done! Our set of 6 dukkah blends is presented in a lovely hamper box with magnectic closure & bow. It includes one of each of our hand blended dukkahs: "Dipping Sand" 65g "Hot Sand" 65g "Coastal Dukkah" 65g "Hazelnut Dukkah" 65g "Super Dukkah" 65g "Dessert Dukkah" 65g Dukkahs are made from purely nuts, seeds & spices. "Dipping Sand" - Fine textured, mild & aromatic dukkah. Sesame seeds, almonds & hazelnuts to give a very nutritious base. Cumin, coriander & fennel provde good depth of flavour. A prefect dip with bread & oil or works well as a gluten free coating for chicken goujons or fishcakes. "Hot Sand" - Our chilli dukkah, it's good & it's gently hot! Sesame seeds & almonds with fennel, an extra splash of chilli and well balanced cayenne. Peps up evening drinks & nibbles and adds big flavour to salmon & BBQ meats (add to natural yoghurt for a great marinade for skewered meats). "Coastal Dukkah" - Award winning fresh coastal flavours to awaken your senses. Cornish Seaweeds, Cornish Sea Salt, mint & cayenne give a perfect fresh flavour. Great for seasoning fish or the ideal snack with bread & oil dips after a day on the water. "Hazelnut Dukkah" - Rich nutty texture and lovely paprika warmth. A real classic and perfect for dipping or cooking this dukkah adds a great depth of flavour and richness with hiints of coriander, cumin and plenty of paprikas & cayenne. "Super Dukkah" - Award winning punchy & crunchy dip packed full of seeds. Traditional flavours from thyme, coriander & cumin with plenty of nuts & seeds (pumpkin, sunflower, poppy & sesame) for texture and nutrition. Great for dry toasting & dipping and fantastic sprinkled on to "super salads". A favourite topping for crunch on cauli cheese and an ideal choice for rubbing on a lamb shoulder before slow roasting - pure Moroccan magic! "Dessert Dukkah" - Gently sweet pistachio sprinkle for puddings & breakfasts. Roasted pistachios & hazlenuts that come alive with star anise, Madagascan vanilla, cinnamon & the richness of carob. Perfect dipped with strawberries or srpinkled on to ice cream. Jazz up your favourite crumble or fruit compote, top up breakfast yoghurts, porridge & smoothies (and it's adorable on pan fired French toast/"eggy bread"!). Store in cool dry conditions.
Price at Not On The High Street:
£
24.95
Buy
from Not On The High Street
Snuggle up to unique homeware with notonthehighstreet from Not On The High Street
Snuggle up to unique homeware with notonthehighstreet
More details
Shop
at Not On The High Street

Valid until Friday, 15 Oct 2021.
Worldwide Delivery Details at Not On The High Street:
UK Delivery
Up to £2.95 per item; many are FREE (delivery!).
Worldwide Delivery
International delivery costs are country specific. Please see delivery tariffs on products pages and at checkout. International delivery is available on certain products, indicated by a flag on the product page.
---
Read more about Not On The High Street
(6 votes)
---
Products
View more products from Not On The High Street
---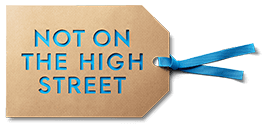 Notonthehighstreet .com is an award-winning online marketplace, offers over 250,000 products by over 5,000 of Britain's most creative small businesses and designer makers.
Visit Not On The High Street