Buy
from Not On The High Street
Discount Offer!
Donut Themed Jewellery Craft Kit
from
Tiny Treat Boutique
Price at Not On The High Street: £14.95
(Click on the product to visit the Not On The High Street site for the price and to confirm that this product is eligible for shipping to your destination.)
Perfect for creative little hands who love a sweet treat, our donut jewellery craft kit combines cute, mini polymer pastries and pretty accessories. Ideal for a birthday present or to keep children entertained over rainy bank holidays, quiet Sunday afternoons or long summer holidays - or keep it for yourself and make your own charms! This DIY craft kit contains everything you need to decorate three handmade donut charms and make them into a bracelet, a keyring and a necklace. Whether it's for a kid's birthday party, a rainy afternoon or just keeping your tykes occupied during school holidays, our kits are just the thing when you need to channel their energy into something creative. They can create their very own donut bracelet, keyring and necklace from this craft kit. It includes everything needed to decorate the charms from mini sweetie pieces to teeny tiny sprinkles! All kits come with clear instructions that can be followed easily by children ages 8 and up but all children must have adult supervision when crafting. Every donut charm is made from polymer clay and needs to be cured in the oven by an adult. But who says this kit can only be for kids? Buy a kit for yourself and customise your very own donut accessory. The kits themselves make great gifts for crafty friends or give them the finished pieces. Each kit comes in a neat box that fits through most letterboxes. If it's a gift and you're sending it directly to the recipient, we can put a note in so they know who it's from. Every single donut charm is handmade so each one is perfectly unique. The colour contents of each kit may vary slightly but this just means that everyone gets their own special accessories. If donuts aren't quite your thing, we also make loads of other mini sweet treat kits; how about a cupcake, a fruit tart or even a slice of pizza? Take a look at our storefront for more! This kit is also available in a mini size so you can pop it in a party bag and kids can make their own necklace. Polymer clay. As the donut charms are handmade there may be slight differences between kits and the colour of the contents may vary. Each kit contains: three undecorated donut charms, polymer clay, bracelet, necklace, keyring, mini mould, decorations, clay glue and applicator. Every kit contains: 3 undecorated donut charms Polymer clay Bracelet Necklace Keyring Mini mould Wheel of cane slices Sequins Glitter Coloured balls Brush Clay glue (which bonds everything together when it's curing in the oven) Toothpicks
Price at Not On The High Street:
£
14.95
Buy
from Not On The High Street
Snuggle up to unique homeware with notonthehighstreet from Not On The High Street
Snuggle up to unique homeware with notonthehighstreet
More details
Shop
at Not On The High Street

Valid until Friday, 15 Oct 2021.
Worldwide Delivery Details at Not On The High Street:
UK Delivery
Up to £2.95 per item; many are FREE (delivery!).
Worldwide Delivery
International delivery costs are country specific. Please see delivery tariffs on products pages and at checkout. International delivery is available on certain products, indicated by a flag on the product page.
---
Read more about Not On The High Street
(6 votes)
---
Products
View more products from Not On The High Street
---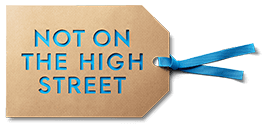 Notonthehighstreet .com is an award-winning online marketplace, offers over 250,000 products by over 5,000 of Britain's most creative small businesses and designer makers.
Visit Not On The High Street