Corbyn Political Underwear For Men And Ladies
from
Twisted Twee
Price at Not On The High Street: £20.00
(Click on the product to visit the Not On The High Street site for the price and to confirm that this product is eligible for shipping to your destination.)
Jeremy Corbyn Political Pants on men's Y Fronts or women's cotton gym knickers. Our current best-seller and a Twisted Twee classic. An outstanding gift for politically motivated students and adults alike. A joyous A birthday, anniversary, graduation or Valentines present which is guaranteed to get a triumphal reaction.. Radical underwear you probably wouldn't want to get run over in. Our Political Pants have appeared on many current affairs programmes including The Wright Stuff and This Morning. I can also reveal that many politicians own a pair including Boris Johnson, Gordon Brown and Donald Trump. Printed in London by impartial, non-radical in-activists. They look great worn outside trousers or on the head for rallies and door step canvassing. We will happily write gift messages on request at no extra cost to make this a perfect, personal present. Soft white cotton Y fronts for Gents or traditional 100% cotton gym knickers for Ladies. Other politicians available right here on Not On The High Street include: Churchill Gove Trump Farage Cameron Widdecombe Johnson Milliband Farage May Thatcher Brown Milliband Merkel 100% terrific cotton. Please note that the Y Fronts are on the large side to allow for the high-mindedness of our noble statesmen. We spent a long time finding a company who made very high quality and vibrant transfer prints for this design. The joy of this is that the print won't crack, fade, peel, split or misbehave in any way and will last countless washes for many happy years.
Price at Not On The High Street: £
20.00
Buy
from Not On The High Street (Please note: We try hard to keep these prices up to date. Click on the product to visit the Not On The High Street site for the price and to confirm that this product is eligible for shipping to your destination.)
Trending products at Not On The High Street
Trending: As seen in the press
Shop
at Not On The High Street
Worldwide Delivery Details at Not On The High Street:
UK Delivery
Up to £2.95 per item; many are FREE (delivery!).
Worldwide Delivery
International delivery costs are country specific. Please see delivery tariffs on products pages and at checkout. International delivery is available on certain products, indicated by a flag on the product page.
---
Read more about Not On The High Street
(6 votes)
---
Products
View more products from Not On The High Street
---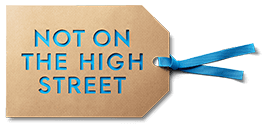 Notonthehighstreet .com is an award-winning online marketplace, offers over 250,000 products by over 5,000 of Britain's most creative small businesses and designer makers.
Visit Not On The High Street