Bibs Colour Dummies Size One
from
Aubrey & Co
Price at Not On The High Street: £4.50
(Click on the product to visit the Not On The High Street site for the price and to confirm that this product is eligible for shipping to your destination.)
Introducing the Bibs dummy in Size 1, recommended for 0-6 months. 100% BPA free and made from natural rubber. Buy any 2 dummies and we'll ship them in our brand new reusable PEVA bags. This classic retro dummy is rounded in shape and comes in a variety of colours. Recommendations: Prior to use please sterilise your dummy with boiling water and leave to cool down, please ensure hot water is squeezed out of the Baglet/ nipple before you give it to your little one. Never use washing up liquid to clean your child'summy. Never use your dummy to administering medication. Frequently check the dummy for damage. Please refrain from using a damaged dummy. Dummies' should be replaced every 6 weeks for hygiene reasons. Store in a dry, closed container. Dummies should be immediately replaced if any of the following occur: Changes in the shape of the baglet/nipple i.e. cracks, holes, bite marks as this can lead to defects and risk of suffocation. Every time you offer your child the dummy, it must be checked thoroughly. This is done as follows: Pull the heel in all directions. Exposure to extremely high temperature or direct sunlight, this causes the baglet/nipple to degrade. In special cases latex dummies can cause an allergic reaction. The shape of the dummy ensures it can't be swallowed, 3 air holes are there for this reason also. If the dummy does get wedged in your child's mouth remove it as gently as possible. A safety ring is fitted for this reason. All bibs dummies comply with European standard: EN 1400+A1. It is 100% free from BPA, PVC and phthalates. Baglet/nipple material: latex/natural rubber. Natural Latex or Natural Rubber Latex is 100 % natural and free from harmful additives. Natural Latex stems from the rubber tree and has an easy recognisable yellow colour. Natural Latex is more elastic than silicone, which makes it suitable for children that bite into their pacifiers. Due to the material's organic origins combined with a relatively low heat tolerance Natural Latex decades faster than silicone. Shield material: polypropylene (PP). Fulfils the European standard: EN 1400+A1. Natural rubber/latex expends/grows in size over time. This is due to the fact that the dummies are made from a 100% natural material with a limited durability. When the teat starts to expand in size or changes its colour from yellow to brown, this is a sign that the dummy has reached its lifespan and should be replaced with a new one as at this point the dummy is not safe to use. Dummies should be replaced every 6 weeks. If the dummies are discarded after approximately 6 weeks of use as we recommend, you should not experience this problem. It is also recommended that you have several dummies in use at the same time and replace them continuously after no more than 6 weeks use. This should prevent your little one being sensitive towards the change in size and the dummy will be replaced before it gets too big. Your product is supplied in a recyclable PEVA zip bag for your convenience. Great for your changing bag, use to store your clean dummies to avoid dust and damage.
Price at Not On The High Street: £
4.50
Buy
from Not On The High Street (Please note: We try hard to keep these prices up to date. Click on the product to visit the Not On The High Street site for the price and to confirm that this product is eligible for shipping to your destination.)
Trending products at Not On The High Street
Trending: As seen in the press
Shop
at Not On The High Street
Worldwide Delivery Details at Not On The High Street:
UK Delivery
Up to £2.95 per item; many are FREE (delivery!).
Worldwide Delivery
International delivery costs are country specific. Please see delivery tariffs on products pages and at checkout. International delivery is available on certain products, indicated by a flag on the product page.
---
Read more about Not On The High Street
(6 votes)
---
Products
View more products from Not On The High Street
---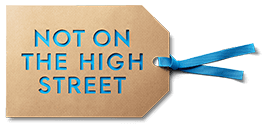 Notonthehighstreet .com is an award-winning online marketplace, offers over 250,000 products by over 5,000 of Britain's most creative small businesses and designer makers.
Visit Not On The High Street