5th Birthday Card, Unisex Card For Five Year Old
from
Lizzie Chancellor
Price at Not On The High Street: £3.95
(Click on the product to visit the Not On The High Street site for the price and to confirm that this product is eligible for shipping to your destination.)
A bright and colourful unisex birthday card for a 5 year old. This gorgeous unisex 5th birthday card is the ideal choice for your son, daughter, niece or nephew turning five. With bright bold colurs and shapes it's sure to stand out on the mantel piece! You can also add a personal message inside the card and we can send the card in its envelope (without paperwork) directly to the recipient at the delivery address supplied. Just add your message in the chosen box. Also in this unisex range we have cards for: 1st Birthday, 2nd Birthday, 3rd Birthday, 4th Birthday, 5th Birthday, 6th Birthday, 7th Birthday, 8th Birthday, 9th Birthday and 10th Birthday 300gsm card stock and supplied with a kraft fleck envelope.
Price at Not On The High Street: £
3.95
Buy
from Not On The High Street (Please note: We try hard to keep these prices up to date. Click on the product to visit the Not On The High Street site for the price and to confirm that this product is eligible for shipping to your destination.)
Trending products at Not On The High Street
Trending: As seen in the press
Shop
at Not On The High Street
Worldwide Delivery Details at Not On The High Street:
UK Delivery
Up to £2.95 per item; many are FREE (delivery!).
Worldwide Delivery
International delivery costs are country specific. Please see delivery tariffs on products pages and at checkout. International delivery is available on certain products, indicated by a flag on the product page.
---
Read more about Not On The High Street
(6 votes)
---
Products
View more products from Not On The High Street
---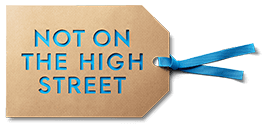 Notonthehighstreet .com is an award-winning online marketplace, offers over 250,000 products by over 5,000 of Britain's most creative small businesses and designer makers.
Visit Not On The High Street